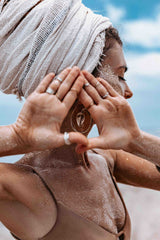 RA (pronounced "Rah") Egyptian draws its name from the sun god Ra of ancient Egyptian mythology, an eternal and powerful symbol of rebirth and renewal.
Inspired by the first anti-aging cosmetic formula in recorded history, an ancient "spell" found in a 3,500-year-old papyrus, RA Egyptian products celebrate ancient Egypt's incredible legacy and tap into more than 4,000 years of ancient Egyptian cosmetic wisdom.
In just a few elegant steps, these highly effective products deliver extraordinary results with little effort. Treat yourself like royalty and discover your skin's true potential using trusted ancient Egyptian ingredients that have stood the test of time.
We are the ancient art of skincare.